News and Views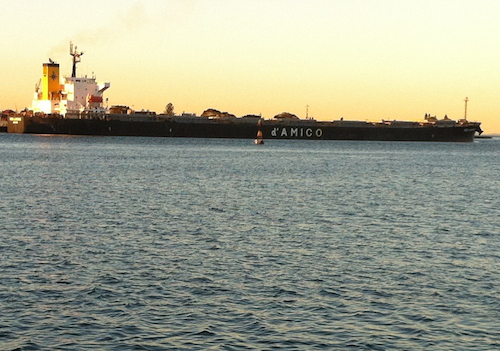 Bulk carrier leaving Newcastle Port with a load of CO2 in the form of coal.
OPINION - Exporting Climate Change

Australia produces around 1.3% of the world's greenhouse gases – not much, you would think, when you look at China, India or the USA.

But hang on. Italy, with twice the population of Australia's produces 1.2% of the world's greenhouse gases. The UK, with nearly three times the population, 1.4%.

So what's going on here? Surely these guys just use nuclear to reduce their CO2? Not so. Italy closed all its nuclear plants in the 1990's. The UK produces only 18% of its electricity from nuclear.
In Australia around 70% or our electricity is produced from burning coal – about 55 million tonnes per year1. But we mine 430 million tonnes. The rest, 375 million tonnes, we export – mostly to Asia2. Some of this is to make steel, and some to generate electricity.

I've just visited the lovely city of Newcastle, via Singleton. What is unavoidable to the eye are the huge mullock heaps around gigantic holes in the ground; massive trains that are over a kilometer long; and ships the length of two or three football fields going in and out of the harbour, 3 or 4 a day, filled to the brim with that black gold that we rely on to prop up our budgets.

So the 1.3% is now looking more like 5-6 % (do the maths). Compare that with Italy, Germany, the UK and France combined, and there's not much change left over. We are exporting our global warming to other countries.

"But, your honour, if we don't sell it to them, others will. It won't make any difference," said the drug dealer to the judge.

No - we have lost all moral authority on this issue. We are, by far, the most recalcitrant greenhouse gas emitters, per capita, in the world.

The rotten tragedy is, we have some of the best renewable resources in the world and could go 100% renewable within 10-15 years - if we wanted to. If we told our political representatives what we wanted. If we voted them out if they didn't deliver.

The big issue is not just global warming: it's dollars. Where will governments get the money to run the country without the royalties from coal? Are they prepared to cut out subsidies to fossil fuels? Are they willing to bite the bullet and try some new sources of revenue – like getting corporations and individuals to pay their fair share of tax?
Peter Fraser 23/7/16
1.WCA (September 2014). "Coal Statistics". Today in Energy. World Coal Association.
2. Septemner 2015 - Resources and Energy Quarterly. Australian Office of the Chief Economist. pp44.56
In the press
March 2015 - The Goulburn Group successful grant application as reported in Renew Economy
March 2015 - The Goulburn Group successful grant application as reported in Goulburn Post
August 2015 - Goulburn Post reports on website launch
September 2015 - Community Forum as reported in Town and Country
February 2016 - Politics in the Pub as reported in Goulburn Post
May 2016 - U3A Presentation as reported in Goulburn Post
May 2016 - Feasibility Study Launch as reported in Renewable Cities
May 2016 - Feasibility Study Launch as reported in One Step Off The Grid
June 2016 - Global Warming needs artists.
June 2016 - NSW Government moves to more renewables
June 2016 - L/NP still holding out on support for community energy
July 2016 - Council ticket 'non-exclusive': Shepherd as reported in Goulburn Post
July 2016 - DA submitted to council.
May 2017 - DA finally approved.
May 2017 - Local editorial supporting the project
October 2017 - Politics, the Pub, and Energy
Early 2017 - DA Fee not waived by GMC
September 2018 - Goulburn Post on Solar Farm Delay
August 2019 - Goulburn Post on John Hewson's board position
March 2020 - NSW Government grants $2.1M to the project
June 2020 - Goulburn community solar farm takes a powerful leap to fruition
September 2020 - We give Siemens the flick because of Adani support.
September 2020 - Hewson backs Goulburn
February 2023 - Safeguard Mechanism submission
Resources
August 2015 - Introduction CE4G Video
August 2015 - Media Release announcing first Open Day
September 2015 - Newsletter
October 2015 - Newsletter
December 2015 - Newsletter
June 2016 - Community Solar Farm Feasibility Study
August 2016 - Submission to NSW Dept Planning on SE Draft Plan
Committee Nomination Form
Membership Form
AGM 2017 President's Report
November 2017 newsletter
AGM 2018 President's Report
September 2020 - Media Release - Siemens
http://www.ce4g.org.au/couch/uploads/file/nomination_form.pdf
Interesting Links
Solarcore - Concentrated Solar Power
Community Attitudes to Renewable Energy - NSW Office of Environment and Heritage
Al Gore: The Case for Optimism on Climate Change
The Guardian: Australia's Regions Already Have An Energy Crisis And A Climate Of Investment Is The Answer
Gloucester Advocate: Energise Gloucester With Community Renewables
Clive Hamilton: The Great Climate Silence